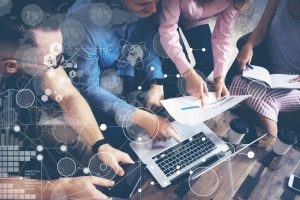 Once your business and its various departments take shape, there's a lot of housekeeping that you will need to do to make sure it runs without a hitch. With a growing human resources department comes more HR documents to monitor and get cleared. The HR laws and regulations your business is subject to can be complex, and compliance is a layered process. To ensure your human resources documents and their storage meet HR compliance, regarding laws and required procedures, you should take these essential steps.
Reduce Your Legal Worries and Secure Your Documents
Ensure you familiarize yourself with federal and state labor laws so that you know whether or not your business practices violate employee rights. Federal laws include the National Labor Relations Act (NLRA), which protect workers' rights to collective bargaining. There's also the Family and Medical Leave Act, entitling employees the right to take unpaid leave for family or medical reasons.
Any requests made by the federal or state labor departments should be responded to quickly and with accurate information. Have an HR documents list on hand, so you know which documents to email to attorneys, including entire employee files. Having a list of documents collected from employees also helps you keep a record of all the papers, so you don't lose or misplace them, which could happen with odd-sized documents like doctor's notes. Your document storage system should also be in time-stamped order, so it's easier to retrieve recent files or those relating to a particular case.
By automating your document storage, you can activate security features to protect employee privacy while complying with the Health Insurance Portability and Accountability Act (HIPAA). Automation also improves authentication, helps you monitor document access and retrieval, and allows you to access records from any device or location on a 24/7 basis.
>> Everything You Need to Know About Document Management Software [Free eBook] <<
Knowing Compliance Risks
When engaging in document management, there are three main compliance risks to consider so your business follows the law. The main risks to HR document storage are:
Incomplete or missing documents

Sharing personnel documents

Noncompliant record keeping, concerning document retention and reaction to audits or litigation
Collecting and organizing all required employee documents, both paper and digital, can be taxing. That's why HR document management becomes more vital so you can locate records and update them accordingly. These systems are also created and updated with HR compliance laws in mind, addressing many issues such as those arising from sharing documents between departments.
Mitigate HR Compliance Risks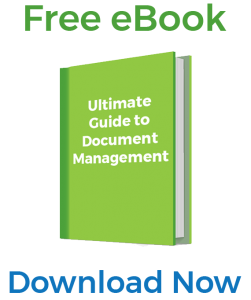 To manage the risks associated with your human resources documents, you need HR document management software that is accessible and versatile, providing all of the functions your business needs. While going completely paperless would relieve the hassle to some degree, it might not be possible for your HR department. Just know that you can implement scanning services that will transfer older and newly created paper documents to your digital stores. Therefore, you can keep all of your HR documents safely stored on your server.
With the right HR document management software, information flows faster, retrieving files is easier, handling audits becomes simplified, and you save money on paper-based expenses. HR document software is designed with compliance in mind, so you can have your system set up to safely house and share applications, resumes, payroll, and insurance data with authorized employees and offices.
A proper HR document management system will have the ability to manage the workflows for individual onboarding documents. At the same time, it should incorporate a checklist style system to ensure all the required onboarding documents are present, report exactly where they are in their processes and provide instant visibility to the people who are authorized to view them. This way, individual documents can be automatically routed to the staff who need to act on them while maintaining a visible and auditable process to ensure each and every file is complete and accurate.
Your system can be programmed with retention rules to monitor data such as date of hire and date of departure from the company. Once the retention period expires, you will be notified that it's time to delete documents securely.
As opposed to sending electronic or hard copies while sharing information, you can send links instead. Your HR document management software system will provide secure links to the initial repository. You can also control who can access links and what people do with documents they have access to. When sharing records, you also start an audit trail, detailing who reviewed what document, when they opened it, and what edits were made. Your system is designed for optimal security and accountability.
If you want to be even more confident in your HR document management system, consider self-audits to identify areas for improvement. Develop and reinforce recordkeeping policies and procedures, so information flow remains steady. Your managers should also be trained on their role in maintaining a compliant program so that your and the government's HR policies and procedures are being upheld.
Whether it's a big organization or an emerging small business, MEDI Document Management Solutions can help you sort the documents required for an HR department. Contact MEDI now.