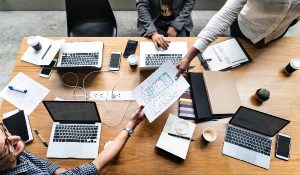 Human resources compliance is essential to any business. A checklist is a tool used by human resources departments to prepare for an impending HR compliance audit. It's a useful tool to keep your business, whether established or emerging, within the laws governing employment, and to ensure you're generating the right results.
By being compliant, your business is more accountable. HR compliance is determined by many things such as the information you're asking from employees, how you ask for and collect it, and also how you store all of this data. Using a checklist and remaining in line with industry expectations will enhance your business's reputation.
Recruiting and Interviewing
When you're doing compliance management via your checklist, it should first have a section to review your job application forms and internal job descriptions. Your company should emphasize compliance with acts such as the American with Disabilities Act as well as the Fair Employment and Housing Act. In other words, you're reviewing how your job applications ask for an applicant's status and how you do so legally.
Your checklist should outline an assessment of the description on your application forms defining at-will employment. Also, it should mandate a thorough examination looking at your interviewing procedures, including who the interviewers are and the questions they ask. During these hiring stages, your checklist must also review how your company does reference checks in compliance with employment law.
>> Download the Ultimate Guide to Document Management <<
Hiring Procedures
The next thing on your checklist to help you avoid HR compliance issues is exploring hiring procedures: the activities occurring once you hire an employee. Review your offer letter and orientation packets for new hires. Look at documents you provide to new employees to sign, with particular emphasis on Title VII, which prohibits discrimination against any employee because of race, color, nationality, religion, sex, or sexual orientation. You must also assert that you understand and follow laws concerning the Age Discrimination in Employment Act.
Worker Eligibility
You must be familiar with how to determine if an employee is eligible to work in the United States by understanding guidelines set by the U.S. Citizenship and Immigration Services Department (U.S. CIS). Having an I-9 form is helpful as it contains a document list showing what applicants must produce to prove their eligibility. If your business agrees to provide work visas, you need to be verse with laws determining how to secure work visas on behalf of your employees. The U.S. CIS provides a handbook providing guidelines for proper documentation of worker eligibility.
Policies and Procedures
Your HR compliance checklist can provide an in-depth check of all your employment policies, including ones in your personnel handbook. Go over all state and federal employment statues, ensuring your company is up to date and in alignment with laws. The statutes you'll be following include family and medical leave, health benefits, pregnant disability benefits and leave as well as COBRA insurance coverage and unemployment benefits.
As these policy reviews are taking place, your compliance management checklist should also consider drug and alcohol-free workplace specifications, rehabilitation services, equal pay, and ergonomics issues.
Health & Safety Considerations
No matter what industry, every business is accountable to the Occupational Safety and Health Administration, which has workplace safety guidelines enforced by the federal agency. For proper human resource compliance, companies must provide adequate training programs, establish reporting requirements, and log workplace maintenance to provide the safest work environment possible. With the appropriate training and HR oversight, an office can limit workplace injuries.
If your business uses chemicals, your checklist should feature federally-approved procedures surrounding chemical safety and hazard communication. Furthermore, it should require a tour of your physical environment to ensure safety concerns are being addressed.
How to Improve HR Compliance
You can improve HR compliance by upgrading your document management system.
By automating your system, you transform your business from being paper-driven to having documents available at the click of a button. You can store documents such as the I-9 form, employee files, and medical files in individual folders, reducing your storage burden while complying with records-keeping regulations. You can also limit access to critical or sensitive documents to only those with authority to view them. In addition, you can streamline your HR processes by digitally tracking the required documentation for employees during onboarding.
Automating your system also secures it to comply with the Health Insurance Portability and Accountability Act (HIPAA) while protecting employee privacy. Personal information for each employee is stored in an electronic repository for quick, easy access. Every cover letter, resume, sick leave request, and more is traceable and easier to manage, ensuring a successful HR compliance audit.
Workflows and deficiency reporting are also helpful, with the former boosting operational efficiency and the latter addressing discrepancies that could make compliance harder to achieve.
Automate and fully secure your document management system to make sure your business is compliant. Make the switch with MEDI Document Management Solutions today!