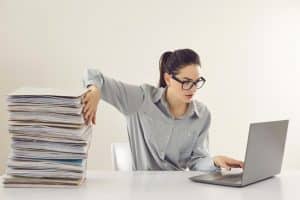 Your organization can find a more efficient way to complete the repetitive, paper-driven tasks that bog you down. Leveraging technology through digitization allows you to increase efficiency while creating a more secure document management system. As a result, you reduce errors and eliminate bottlenecks that disrupt productivity. Here we explore the key advantages of digitization to show you just how efficient going digital really is for your business processes.
What are the Advantages of Digitization?
Digital transformation takes your paper documents into the digital era. Through scanning and digitization of your physical documents, you can easily access electronic records from a secure document management system. Digital technologies make it easier to save, store, search, access, and share digitized information while reducing the risk of human error associated with physical records. Whether your records are paper, microfilm, microfiche, or large-format physical documents, scanned documents improve efficiencies, save money, and reduce risks related to lost data.
Digitization of Paper Documents Will Save Money
Digitization of documents paper-based or otherwise reduces the cost of recurring record management. The time spent on the ongoing processing of physical records costs your organization more than the one-time cost of digitizing paper to digital files:
Electronic Documents Save Time
Every day, your employees waste time on the following paper-driven tasks:
Data entry

Correcting

human errors

Searching for paper records

Printing and scanning

Making multiple copies to share with other departments, customers, vendors, etc.
This time impacts operational costs eliminated with digitization. It also reduces paper, toner, and copy/printing equipment overhead. As you save time, you see increased productivity as employees focus on higher-value tasks.
Lost and Damaged Paper Records Cost Money
Paper documents are vulnerable to loss, damage, or even theft. While some documents have little value, the loss of paper records that are either irreplaceable or that cost time and money to find or replace impacts your finances. The average value of lost or stolen records containing sensitive or confidential information is $148. This number increases by almost 5% each year. Digital records provide backups, so you never face the fear or cost of lost documents. The cost to scan and save documents digitally is far more affordable than your employee's time, supplies, and effort to recover lost records.
Digitization Increases Efficiency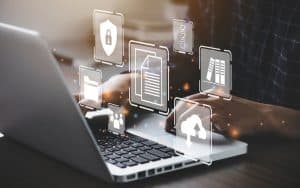 Did you know it takes an average of 30 minutes to process a single paper record for a customer? We've mentioned the financial impact of an employee's time on your business, but what about the overall processes and inefficiencies for your entire operation? Here's how digitization improves efficiencies:
Digitized documents are easily accessible with quick searches that take seconds

Digital files can be shared quickly via email or from a secure storage system

Lost records become a thing of the past as paper is no longer misfiled, lost in the shuffle, or physically removed from the storage system

Improved customer service with fast delivery of information helps improve customer loyalty

Human error is reduced because physical tasks are eliminated

Employees aren't slowed down by physical issues such as broken printers, paper jams, running out of toner, etc.
Digital files simplify record retrieval, reducing the average time spent to no more than five minutes. Employee efficiency improves by using a secure document management system for easy sharing, storing, saving, and retrieving.
No Risk of Document Theft or Natural Disasters
Whether it's fire, flood, extreme storms, burst pipes, or theft, paper documents are vulnerable to loss, damage, and theft. Digitization provides an instant backup to your records and data, so you never face the consequences of lost documents. Natural disasters and burst pipes aside, even the strictest security measures fail to protect you from the risk of theft. Time also presents significant issues for paper documents that become fragile, discolored, or stained as they age. Document scanning and digitization mean you never have to worry about these issues as you always have instant access to your digital files and backups.
The Digital Format Modernizes Your Organization
Storing documents digitally brings your organization into the digital age. As a result, you gain all the advantages of digitization, including:
Increased efficiency and time savings

Improved productivity

Cost savings

Improved business processes

Improved customer service and satisfaction

Integration with other technology within your organization, vendors, customers, suppliers, etc., such as

workflow automation software

Reduced human error

Happier employees tired of using outdated systems

More professional, forward-thinking brand

Less time and money upkeeping outdated equipment

Digitization is environmentally friendly, reducing paper waste, energy use for copiers and printers, chemicals in toners, etc.
Digitally converting your records keeps you competitive, attracting and retaining more customers and talent.
Open More Office Space with Digitization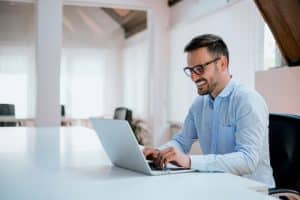 Office space comes at a premium today. Storing paper supplies, printers, scanners, photocopiers, filing cabinets, and document storage boxes strains limited office space. When you are low on space, keeping organized and providing a work environment that improves job satisfaction becomes difficult. Disorganization due to a lack of space also interferes with the efficient filing and retrieval of paper documents.
If your space isn't adequately temperature-controlled or doesn't provide a secure area for sensitive documents, your records are at risk for damage and theft. You might already spend money on an offsite storage facility for your expanding paper records. Outdated filing and retrieval processes cost money and create a backlog of work. Digitizing your physical records frees up office space and eliminates the need for offsite storage. As a result, you can reduce operating costs, remain scalable, and invest that money in expanding your business.
Accommodate Remote Workers
Digitizing physical records makes them easily accessible at any time, from anywhere. As a result, you can accommodate remote workers. Mobility and remote work have become a must for all organizations, whether it's salespeople out on the road, staff looking for more flexible jobs, or a way to reduce overhead for unnecessarily large, expensive office space. Using role-based access controls, you can share data with employees, vendors, suppliers, and customers from a secure storage system.
Whether you manage human resources, accounts payables/receivables, government agencies, manufacturing operations, or any size business, digitization in hand with effective automation solutions will save time and money.

Should I Consult an Expert About Digitization?
The value and benefits of digitization are clear to see, but should you take things a step further and speak to an expert? Just like with any other industry, consulting an expert in digitization will allow you to squeeze every drop of value out of the process and avoid many mistakes that could derail your efforts. Our experts at MEDI specialize in automation opportunities leveraging digitization and workflow software to improve efficiencies, so if you want the best results, the answer is clear. For more information, speak to a solution expert today.